CAREER COUNSELLING & CAREER COACHING
IN VANCOUVER BC
Serving clients in Vancouver, North Vancouver, Burnaby, Surrey, Port Coquitlam, Richmond, New Westminster and Victoria, Vancouver Island.
"I felt a huge weight lifted. It made me feel very optimistic about the future."
SARA PIERONI // ​Merchandising Manager | Toronto, Canada
Meet Our Vancouver Coaches
Pat Parisi M.Ed.
---
I'm Pat and for over 18 years, I've supported 100s of people to thrive in their careers and live meaningful lives.

I help people to find deeper satisfaction and happiness in their career and life choices -- and live their dreams.
Linda Faucheux M.A. LPC
---
I'm Linda Faucheux (pronounced 'fo-shay') and I've been coaching professionals like you to career success for over 25 years.

Feeling empowered in your career cultivates purpose, mastery, and autonomy; key components for a flourishing life.

Let me help you build a strong professional direction that will energize you and bring out the best of who you are.
How We Help You
You're always in control. All our services are 100% customized to your needs.
Here are some popular topics, but contact us if you need any other support!

Vancouver Career Counselling That Takes You From Stress to Success
We all have blindspots and its difficult to see them yourself. If you've been facing challenges with your career, we're here to help. Take advantage of our career planning & career advising expertise and let's build a strategy for your success.

We are leaders in the career counselling field! Across Canada, we are known for our kind approach that is caring and effective. A Counselor can you help generate options, evaluate your next steps & feel confident about your future.
Vancouver Job Coaching.

The Vancouver job search marketplace is quite different than other cities in Canada and you need to get up to speed to really uncover those 'hidden' job opportunities.

Work with us to boost your confidence, learn the strategies that work and become a natural at networking your way to a great job.

Define Your Brand. Win Interviews. Land the Right Job.

Our Vancouver Resume & Professional Branding Specialists can't wait to help you define and articulate what's unique about you.

We follow a unique process that's accomplishments-based and highlights your greatest achievements - exactly what a future employer needs to see jump off the page.

We'll arm you with the right strategy and marketing materials (resume, cover letter, Personal Networking profile, LinkedIn profile) that will put your application at the top of the pile!

How It Works
Experience coaching at your first session, the "Turning Point" session.
Start your coaching program.
Get in touch and find out more...
Got questions? We'd love to hear from you.
Career Coach Vancouver Rave Reviews
We're immensely proud to be one of the highest rated career development companies in Canada on Google.
Read what our clients say about us.

Praise for Pat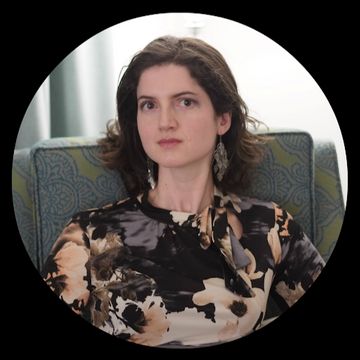 Micheila Storr
Head Editor & Writing Coach
"I genuinely enjoyed the process of working with Pat to clarify my goals and learn how to more effectively meet various challenges. We dug deep psychologically, much deeper than I had expected a career coach would go with me, and every step of the way I felt that Pat really got me. This was an exercise in bravery, compassion, and self-reflection in which I felt seen and supported. I recommend Pat as a career coach (or anything coach) without reservation!"
2 years ago
Google review verified by
Endorsal.io
"I worked with Pat Parisi over Skype and she really tailored the experience to my needs. As a recent graduate, she helped me find an identity and options in a competitive job market. Thanks to her I have a fresh new outlook on my career and tools to help me focus on my goals. Thanks Pat!"
4 years ago
Google review verified by
Endorsal.io
Quinlan Bruce
Social Media Coordinator
"I was very hesitant and very skeptical coming into my coaching sessions with Careers By Design. Almost immediately, I was so impressed by how my coach, Pat, pivoted my perspective on choosing the right career path for me. We dissected my values, my professional/academic past and even practiced some stress relief techniques that are truly effective. After my 4 sessions I found a job that I'm really enjoying so far."
9 months ago
Google review verified by
Endorsal.io
Praise for Linda
Rebecca Rosenberg
Senior Project Manager
"Working with Linda at Careers by Design helped me find direction in making a career change in a personally challenging and confusing time in my life. But most importantly, the coaching process helped me gain peace of mind with the process of leaving my job. I am taking steps toward my future, and laying the foundation based on my values as I look for my next role."
10 months ago
Google review verified by
Endorsal.io
Heather Wilson
Senior Product Manager
"Highly recommend! Linda was an exceptional coach through a difficult time. Being in a transitional phase of my life, I was unsure how to invigorate my job search. She was consistently engaged, patient and encouraging as we explored my skills and interests. She offered wonderful advice throughout the process and recommended some essential next steps. Together we built an incredible strength statement which I can draw from and a solid strategy for my resume/cover letters/interviews that will be invaluable in the coming months. I can't say enough good things about her kind and insightful approach. Thank you!"
8 months ago
Google review verified by
Endorsal.io
Linda Sollars
Professor, Regis University
"Linda is a talented counselor and coach. Her work is heart-centered, whole person focused, and provides powerful and positive outcomes! Focusing on WHO you are before you determine your next career move is at the core of Linda Faucheux's work in contemplative career counseling. Her compassionate guidance provides deep (powerful) mindfulness techniques that connects head to heart and the awareness that leads to solution-focused outcomes. I highly recommend Linda. She will exceed your expectations."
3 months ago
Google review verified by
Endorsal.io
Get in touch and find out more...
Got questions? We'd love to hear from you.
Get Our Free PDF Guide
Want to be happy at work?
Grab our PDF guide and we will reveal 5 easy steps to do just that.
Vancouver - Area Information
Are you in the Vancouver area and considering career counselling or career coaching? Or are you thinking about a move?
Read through this important area information we've gathered that might inspire you or give you some career ideas.
Vancouver Overview & Key Industries in the Region
Consistently rated as one of the most liveable (and expensive) cities to live in, in the world, the Greater Vancouver area is the third most populous metropolitan area of Canada, with around 2.4 million people. Vancouver's city website boasts that 60% of families speak a language besides English as home, and the Vancouver Sun recently called the city "the most Asian city outside of Asia."

With one of the most diverse populations in the country and strong international relations, Vancouver has a bustling economy and is at the forefront of many emerging industries. Vancouver is home to headquarters of natural resource companies (such as forest products and mining) as well as growing banking, accounting and law sectors. It continues to expand into software development, bio-technologies and well as earn its title of "Hollywood North" with many productions in and around metro Vancouver.

With a strong focus on technology, arts and culture, natural resources and social enterprises, Vancouver' economy is strong and continues to grow, despite other economies in Canada that continue to struggle. Many people from all over the world have chosen Vancouver as the place to work and live, and for good reason.
Economic Trends
Vancouver has the fastest growing economy in Canada in 2016, with real GDP expected to rise 3.3%, compared to 0.4% for the rest of Canada. The fastest growing sectors continue to be construction, manufacturing, and transportation and warehousing. The low Canadian dollar has helped with export-related economies, such as tourism and manufacturing (Source: The Conference Board of Canada, Mar. 2016).

The largest employment sectors are real estate, professional services (like Law, Accounting, etc.) and construction (Source: BC Stats, 2015).
Fun Facts about Vancouver
Vancouver has one of the mildest climates in Canada.
Greenpeace, a famous environmental group, was established in Vancouver.
Some of the famous names associated with the city and the surrounding Vancouver area include: Bryan Adams, Michael J. Fox, Carly Rae Jepsen, Ryan Reynolds, and Seth Rogen.